Welcome to Lyon Enterprises
We are a full-service promotional products distributor with more than 20 years of industry experience and membership in several professional organizations including Promotional Products Association International and Advertising Specialty Institute.
While we've built our name on providing the best in imprinted items to our newspaper clients, we also make available that same professional service to our growing number of customers in many diverse industries.
We are committed to excellent customer service. We communicate at every step in your order. With a full-service in-house art department, we suggest ways to help your logo fit the imprint area of the item you select. We also notify you when the order has been shipped.
Take some time to explore our database and order a virtual sample or request a catalog. Stay awhile and research your next promotional campaign.
We welcome your questions and input. Thank you for visiting.
Just click on "Sign In" at the top of the page to join our mailing list.

New Ideas! 800.243.1144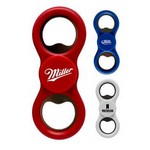 Bottle Opener Fidget Spinner
Union Printed, These 2 in 1 fidget hand spinners Toys are made with a durable aluminum frame and high quality ABS Plastic, and feature a SS bearing core with low friction for Long time Spinning. Live ...
$1.09 - $1.64
What Our Customers Are Saying

"In the four plus years that I have done business with Lyon Enterprises, I have found them nothing short of fantastic to work with. They are always looking to provide the best service in the most time...
Lou Dewaele, Circulation Sales Manager
Great Falls Tribune